Westwoods Storeys offers elevated living spaces, guaranteed to provide a haven of comfort and style.
#LiveThePuebloLife                           #LiveYourStory#                              WestwoodsStoreys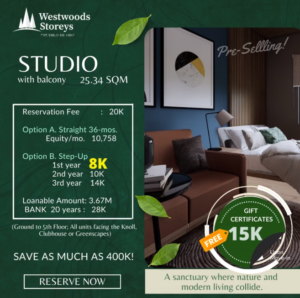 Avail an introductory price for as low as 8,000 monthly equity!
Plus, Get FREE GIFT CERTIFICATES upon move-in!
Hurry! Get all these until August 28, 2023 in celebration of Kagay-an's Fiesta!
ONLY Ph 20k reservation fee.
Call 09173229779 to reserve now.
For EQUITY payment, choose between
Option A. Straight payment for 36 months at Ph 10,758/ month or
Option B. Step Up Payment:
1st year Ph 8k/month
2nd year Ph 10k/month
3rd year Ph 14k/month
LOANABLE AMOUNT: Ph3.67M
Bank Amortization 20 years: Ph 28k/month
Call us 09173229779 for more details.
REB License#0014597,ID#21-5633394 until 11/12/26
PTR#5694837A until 12/31/2023
R10-B-08/23-106 until 12/31/2023