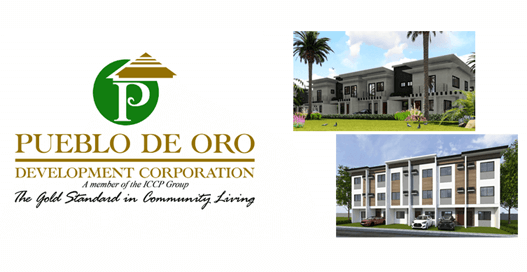 Pueblo de Oro Development Corporation is one of the pioneering property developers here in Cagayan de Oro City; they are known for developing the uptown area of Cagayan de Oro which is now called Pueblo de Oro Township. Over the years, Pueblo de Oro Township has been Pueblo de Oro's gold standard in community living.
PODC continues to expand its community by developing new projects. In fact, they have launched two of their newest development. Their latest offerings are The Enclave at Pueblo Golf and Bamboo Lane. The Enclave at Pueblo Golf is a premier residential community along the fairways of Pueblo Golf. It's an exclusive sanctuary reserved for privileged few, offering only less than 50 townhouse type units. An Inner Unit has a floor area of 115 sqm on a 105 sqm lot while an End Unit has 122 sqm floor area on a 135 sqm lot. They also offer Ridge Lots with areas ranging from 260 sqm to 460 sqm. Another project PODC has launched is the 3-storey townhouse called Bamboo Lane. It is located at Calaanan Valley Floor near Forest View Homes. Each townhouse units has 78 sqm floor area with varied sizes of lot area. Inner units have lot area of 45 sqm while End units have 50 sqm lot area.
The Enclave at Pueblo Golf and Bamboo Lane are both open for reservations. Hurry now, choose your own place and contact us for reservations. We will gladly assist you!