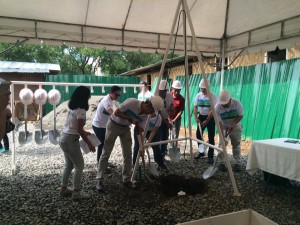 It's no secret anymore that Italpinas Inc. has started mobilizing on its Primavera City project; as of its progress, they are now on excavation and layout works. And recently, they have conducted their groundbreaking ceremony on the said site, making October 1, 2016 one of the remarkable dates on their calendar.
The event was graced by the presence of Italpinas Inc.'s CEO – Atty. Leviste and Cagayan de Oro's City Mayor – Hon. Oscar Moreno. It was a privilege for the attendees to witness such remarkable event. After the cornerstone laying ceremony at site, refreshments were prepared in the Primavera Residences social hall. Cheers to Italpinas Inc. for another successful event!
Primavera City is one of the most awaited projects here in city because of its unique design and concept. Its design is one of its features that will make it stand out from other condominiums here in the city. And everyone's just excited to see the outcome of this project. Project progress update soon!